Here comes the Mental Health Week shortly after the A2 test week. Here with the breeze of autumn that relieves our stress and tiredness.
With the theme "Back to Basic", the Peer Support division successfully hosted Mental Health Week with the cooperation of the Red Cross Society and Bridge from October 17th to October 20th. Here we share all these wonderful moments with you, with all the wonderful memories we hold.
Wishing tree
Within a day, the wishing tree was full of wishes.
The small and delicate wishing tree brings together everyone's initial wishes and long-awaited dreams. We planted our sincere wishes on the wishing tree, expecting our dreams can be true. We expect the best for all of us, no matter whether we are A2 students who are applying for universities, or G1 students who just enter this community.
There will be a time for our wishes to be true. 
Heartfelt recorder
Everyone has a heart filled with heartfelt messages, and this is the place for everyone to share their messages. 
In our life, part of our stress comes from our unspoken words; we don't speak these out due to environmental pressure, or perhaps because of our inability to directly deliver it to the person concerned. Pressing the button on the recorder, I expressed all my unspoken words to the message keeper. It is the time to back to basics; it is the time to speak unspoken words.
Healing Grattiffi 
If there is always something on our mind that we can't express, this is the time for us to draw them out!
The emergence of coloured paintings depicts the precious things for everyone. I can feel my anxiety begins to release along with my brush swept by the white canvas. Painting is healing. The beauty of our pen outlines of tired and pressure, in perhaps once was ordinary every day, found the rainbow of beauty.
Meditation session
Relax and unwind, this is the lesson taught by the meditation session. Immerse me with soft music and guidance, this is the time for us to find our intrinsic goal, and clear out our path. 
Thanks to the meditation room, we can take a break away from the busy and lost life, return to our hearts, and then travel light, full of confidence and strength.
Bridge
In the middle of October, the annual Mental Health Week (Mental Health Week), a traditional activity of Shenzhen College of International Education, begins. As a freshman in G1, my friends and I were full of expectations for this event, and as a new member of the Bridge, I was also fortunately to participate in the organization and planning of the event!
More than half a month ago, we started meeting and planning, everyone came up with their own creative ideas, and feasible plans were written and submitted to Maria. Finally, "The sea of lucky star" and "Emotional Dice" were selected as the main events of MHW this year.
From the purchase of props, the confirmation of the time, venue and activities with the school, to the gathering before the event to arrange the venue and publicize our activities, every step was full of enthusiasm.
"The sea of lucky star" is a wonderful healing event, which was successfully held last year and has been continued this year. At first, my senior sister and I were worried about whether there would not be enough people to participate and whether we can fill the wishing bottle, but in the end, the effect of the activity proved that "The sea of lucky star" is still a popular activity. From the beginning, everyone didn't know how to participate in the activity and stood on the sidelines. After our continuous explanation, more and more students joined in, pulling their friends to write notes and fold stars together, and I also gained a full sense of fulfillment. Everyone wrote down their wishes or what they wanted to say carefully, and some students held a small piece of paper to pray, hoping to bring good luck and success. During the star folding, the students of the club taught the students who wanted to learn again and again, and the students who learned taught the new students. Such an atmosphere also made the "The sea of lucky star" more warm and meaningful.
At the same time, the "emotional Dice" on the G floor of Building B also brought us a heartwarming experience. Six points correspond to six emotions, which can be used to extract tips on one emotion. When preparing for and participating in the activity, I received a lot of practical advice to deal with my various emotions, such as what we can do in the face of loneliness and anxiety. The "emotional dice" also makes us realize that every emotion has a purpose, and we should accept and learn to live with different emotions. Even though some emotions can bring positive feelings and some can bring negative experiences, we should understand that these emotions play a role in our growth and enrich our lives.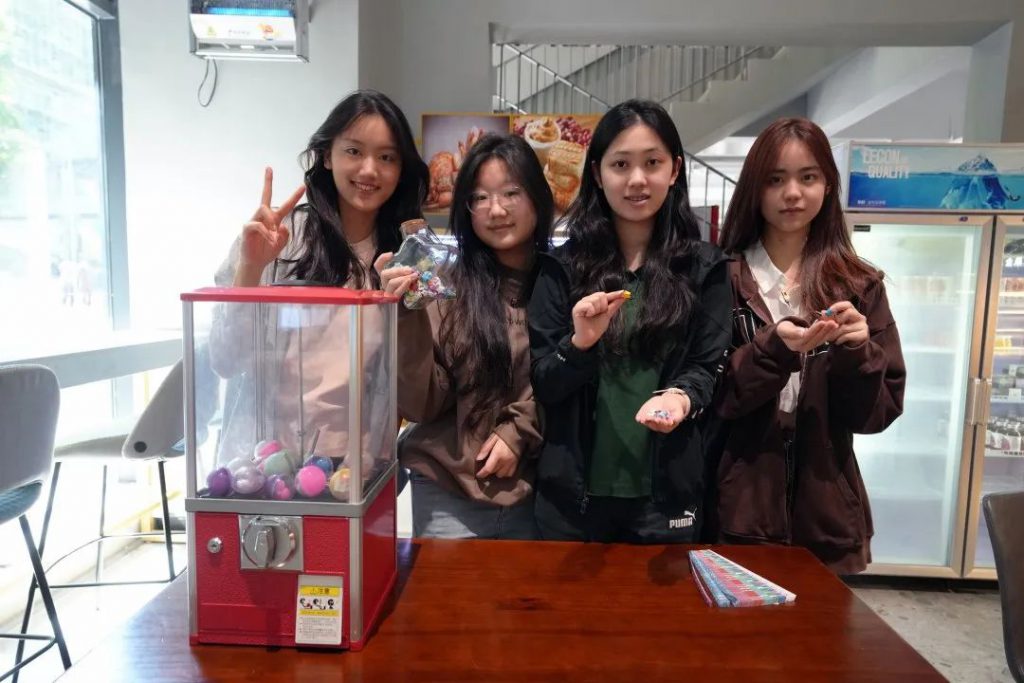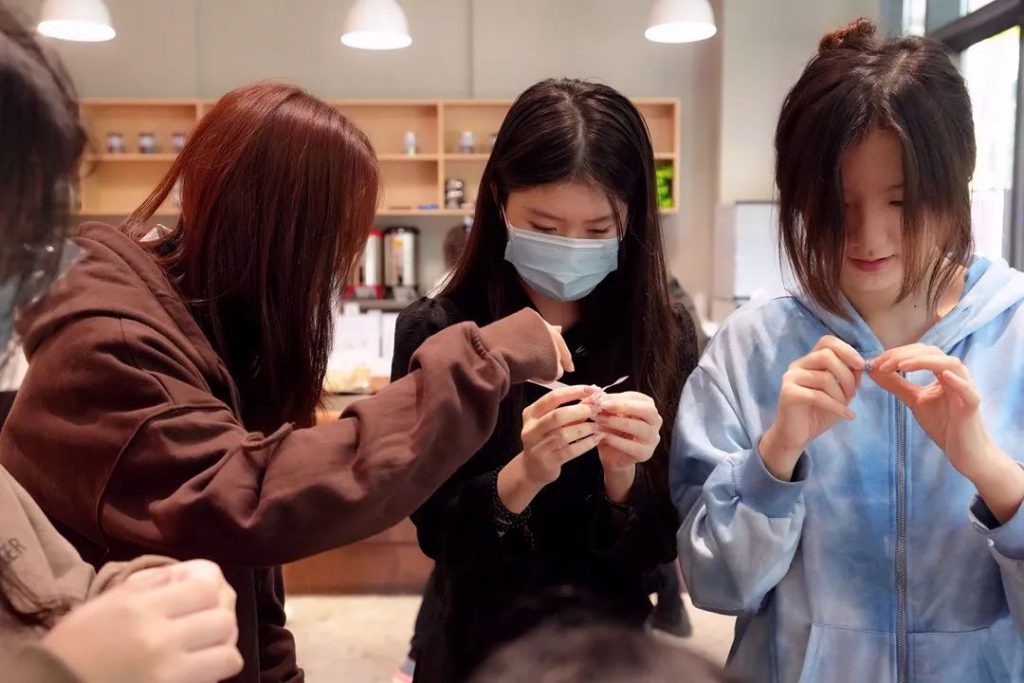 As a participant, I also tried the Wishing tree activity of Peer Support, mental health science popularization organized by Red Cross, emotional tree hole and many other interesting and heartwarming small games. Popular science activities made my friends and I have a further knowledge and understanding of the psychological problems that frequently occur in modern times, and also learned how to self-regulate and alleviate these common psychological problems. Wishing trees and emotional tree holes provide a great opportunity for us to write down and pass on our wonderful vision and to talk about the troubles and stresses in our lives.
G1 Selina——"Enjoyed the activities organized by everyone! Because they are relatively small and there are not so many people, I feel that such relatively private things are more consistent with the relatively private topic of mental health. MHW that day is very fun , there are a lot of new and not so common games, after writing a message and cast wishes bottle, the heart is warm! And then the whole event was organized and it was fun to see the Wishing Tree people's comments!" 
G1 Lianne ——"Really enjoyed this mental health week campaign! The way of the activity is scattered, not together So people's participation is high, in a very relaxed and free atmosphere, this subject guide and communication, write a message, a hole in a tree and  and dice stars, each organization activities are in place, in the process of help is also very happy!" 
This is the end of Mental Health Week, but also a new start for future school life. The meaning of Mental Health Week is endowed by each of us and will be remembered with every firm intrinsic wish and reborn confidence.