Cambridge school in China creates an evidence-based teaching and learning module to empower teachers and instructors
Improving education in classrooms begins with empowering teachers. When teachers develop the skills they need, they also develop their ability to help students learn. The Shenzhen College of International Education (SCIE) knows how transformative it is to enhance the teacher's understanding and abilities, upskilling them so they can continue to nurture, maintain and teach with confidence and enthusiasm.
In August of this year, they created an evidence-based online module on 'Great Teaching', to support teachers in their professional development ambitions.
How does it work?
The module is structured to include a variety of components for staff to complete. The focus of the module is Evidence-Based Great Teaching. The content includes:
Videos from current students and staff about their perceptions and experiences of great teaching, saying what it means to them and why;
Forums for reflection as part of their development;
A presentation on key research.
The module was launched in August 2022, with plans to include further areas on teaching online and high-quality learning, where teachers will work with students to give specific examples that can be used to support Continuous Professional development (CPD) in the school.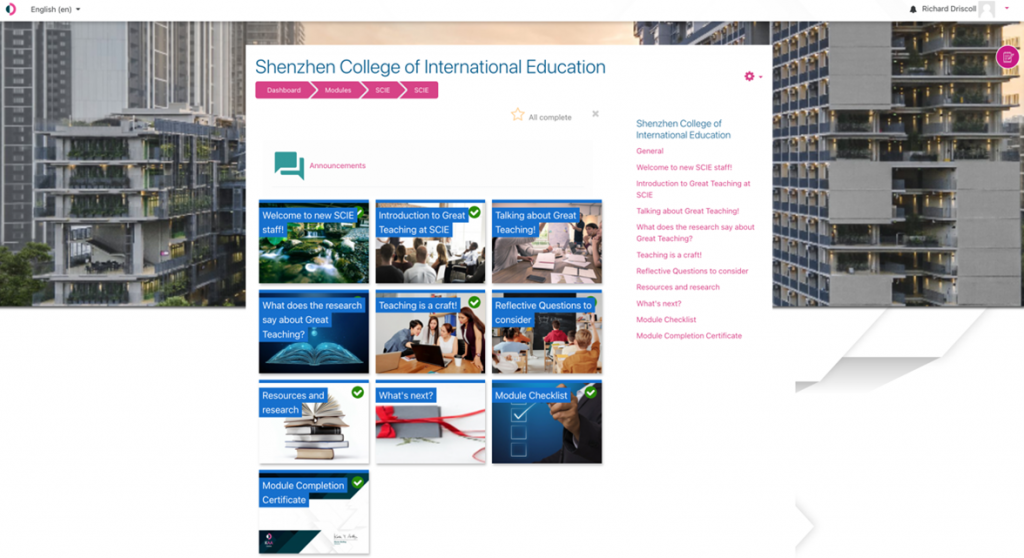 Why was it developed?
Richard Driscoll, Academic Deputy Principal at Shenzhen College of International Education, says:
"The Covid-19 pandemic accelerated change in CPD provision. During this period, staff at SCIE benefited from attending online training such as the Love of Learning Conference, in which over 100 staff joined and included an excellent range of speakers. The online conference allowed for far greater involvement and collaboration with teachers from all over the world. In addition, the online conferences inspired a CPD focus on assessment for learning as a theme.
The conference included keynotes with panel discussions tailored to the staff's different needs. We invited Paul Ellis, Head of Teaching & Learning at Cambridge International who delivered a keynote for SCIE staff focussed on assessment for learning. Paul had also chaired a panel at the Cambridge Schools Conference online in which I had participated.
In addition to online conferences, online professional courses also became more popular among staff. In supporting our strategic plan of redefining what high-quality learning meant to SCIE, we decided to create a new online course that we could adapt and improve throughout our CPD cycle.
In the initial planning stages, we created a module that would support professional development and provide clarity on what is required to develop teaching in the classroom. We wanted a module that supports a hybrid induction model for new staff who would attend in person or online. We included a forum where new staff could 'meet', interact, and collaborate to create some of the content in the module based on their experiences of 'great teaching'."
What does the module consist of?
The Great Teaching module follows the five stages of the CPD framework outlined in Professional Development Mechanisms by Sherrington and Caiglioli.
Building Knowledge
Motivating Staff
Developing Teaching Techniques
Embedding Practice
Taking account of Context, Needs & Time Constraints
After completing the module, the SCIE teachers engaged in three key activities to ensure their learning was continuous and would be implemented:
They chose an area of 'great teaching' to focus on for the academic year
They chose the platform to which the school subscribes, to support them in meeting their targets
They discussed their reflections at a question and answer session led by the module creator, where the vision for CPD for the year was outlined as well.
Looking ahead
Richard says that Shenzhen College of International Education  is in the process of evaluating the module in terms of its impact on great teaching:
"We believe CPD leaders should be open to collaborating with other CPD leaders. At a recent professional learning network meeting, we gained input and suggestions on using data to evaluate the module's success.
By creating a culture of collaboration, we continue to explore how professional learning and development can be improved by working with teachers to ensure they have the right skills knowledge, attitude, and students, to understand what is helpful or unhelpful to their learning.  
For us, at SCIE the Covid-19 pandemic has accelerated great change in our approach to professional learning – and we are already seeing the benefits!"
References
Sherrington Tom, Caviglioli Oliver, Teaching Walkthrus 3, Professional Development Mechanisms, 2022