HURUN EDUCATION TOP INTERNATIONAL SCHOOLS IN CHINA 2022 – 'CHINA'S TOP INTERNATIONAL SCHOOLS, AS VOTED BY THEIR PEERS'
(16 June 2022, Shanghai) Hurun Education, the education platform of Hurun Report Inc., released the Hurun Education Top International Schools in China 2022, a ranking of the best-regarded international schools in China. SCIE ranked 2nd in China, 1st in Shenzhen. This is the fifth year of the ranking.
Except that Hurun Education released China International Schools Best School Campuses 2022, a list of the top 20 school campuses with the best overall facilities. SCIE ranked Top 10.
Hurun Education International Schools Accepting Chinese Passport Holders Top 15
Table: Hurun Education China International Schools Best School Campuses 2022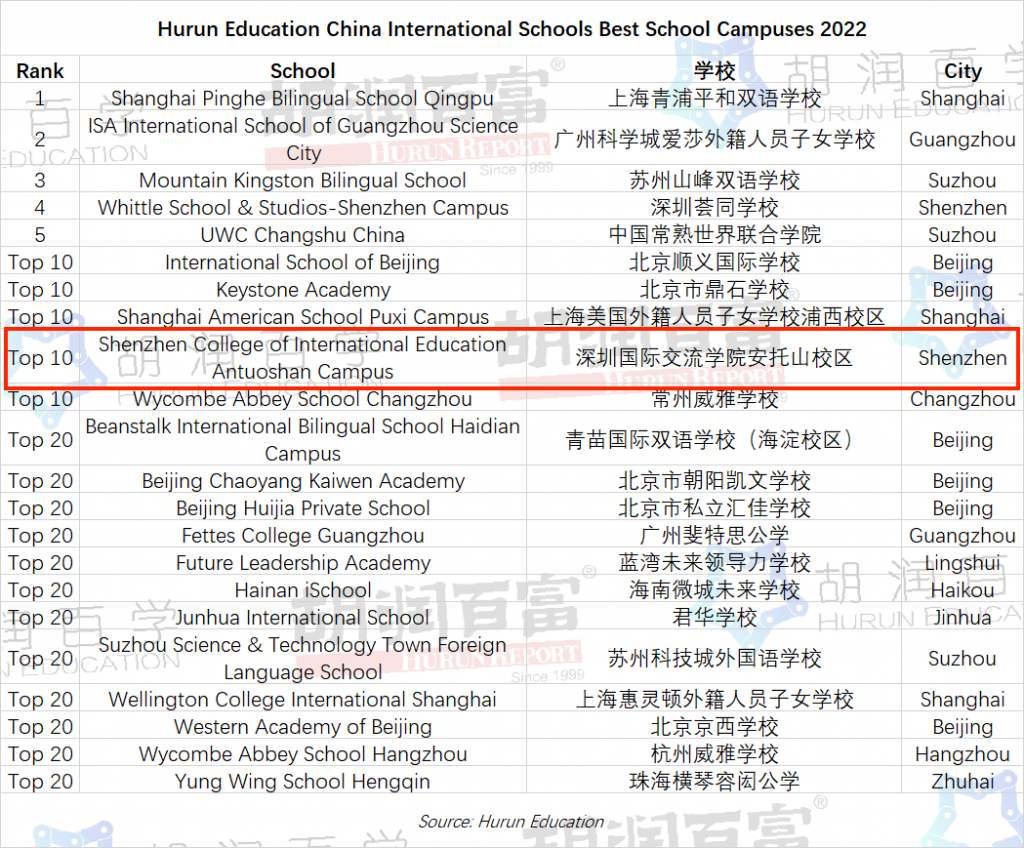 For the main lists, there are three parts to Hurun Education's methodology: 70% of the scorecard is based on a peer to peer voting by international education experts from China; 20% is based on leavers' university destinations and 10% on Co-Curricular Activities (CCAs). The Hurun Education survey has evolved over the five years of the ranking, with the peer votes weighting dropping from 100% in the first three years to 90% last year and 70% this year.
For the peer voting, Hurun Education between Oct 2021 and February 2022 surveyed 353 China international education experts, made up of heads of schools, senior teachers, study abroad agents and school investors. Between them they cast 3,889 votes (up 67% over last year), nominating 680 schools in the process, an average of 11 schools each. For the leavers' destinations, Hurun Education assigned a scorecard for different universities or courses, where reliable data was available. For the CCAs, defined as core components of the non-academic curriculum, including Sports, Creative and Performing Arts and Music, Hurun Education took into account the quality of the coaching staff (70%) and the facilities provided (30%) within a 20-minute drive from the school.