This article is about how SCIE teachers conduct online teaching during this special period. Students described how their teachers held Zoom meetings, set homeworks, mark essays and give individual feedbacks, thus help them prepare for real exams.
For AL history syllabus, we have paper 3 Sources Paper taught by Ms. Lisa, and also Paper 4 the Essay Paper taught by Mr. Julian.
Mr. Julian had already given us Zoom meetings to discuss our questions regard to our focus now on Stalin's Russia. In the Zoom meeting, we're free to ask any questions regard to the past content and also the past exam papers. Mr. Julian also set us work to finish in his Zoom meeting, which I think is very efficient.
Mr. Julian had also made detailed PPTs and uploaded them on Moodle for us to use as reference in completing our notes on Stalin's Russia. Along with these PPTs, there are also essays to finish.
After we complete the essay and sent it back to Mr. Julian, he will mark the essay and give us personal feedback based on our content. This is really beneficial as the Mock exams are coming, and we're preparing for our real CIE exams.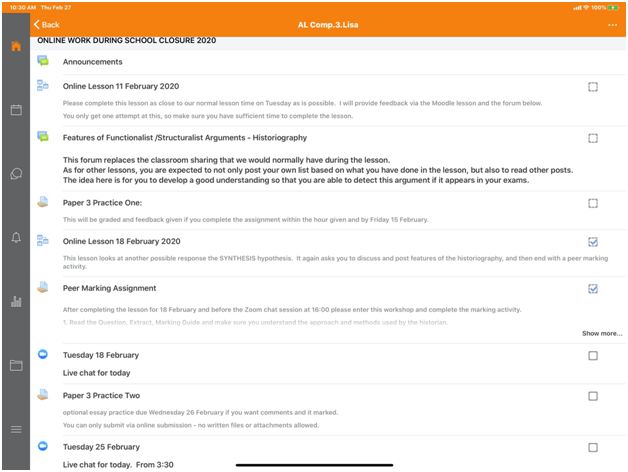 Ms. Lisa had also held Zoom meetings with us, and in her meetings she discussed the different approaches in analyzing the Holocaust. In the meeting, we could ask her questions regarding to different approaches.
Ms. Lisa had also assigned us two Practice Papers to finish. We would complete them under timed conditions. After we sent back to her, she would mark them and provide us with the detailed feedback.
Also, there are some online work that we need to complete during the regular lesson time. These tasks help us to identify features that are common in individual approaches of the Holocaust.
In conclusion, I think the A2 History department has done an excellent job in providing us with sufficient educational opportunities during this difficult time. There are sufficient tasks organized and the Zoom meetings are efficient.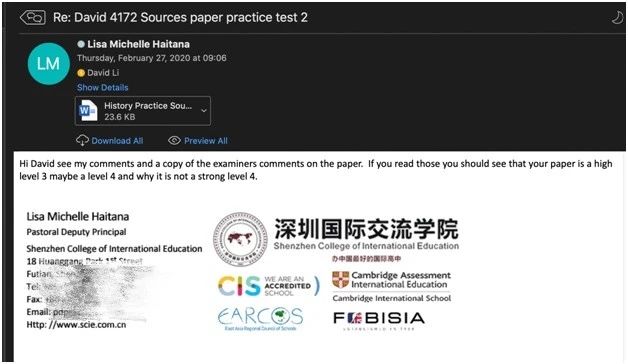 First I was set homework on a essay question that relates to our current topic. Because it is a rather new topic, so I was a bit unsure. Therefore I put my questions at the end of my essay. Mr Gary marked the question the next day and send back the homework with marks and answers with my questions, which clarifies the structuring issue that I was struggling with!
Then we had a zoom meeting which lasted for an hour. Mr Richard opens the lesson by recommending some additional resources such as books that we may find useful for our new topic. Then we move on to discuss the homework essay, and Mr Richard shared my screen on zoom where I go through in bullet point of my essay. Then Mr Richard discussed the ways of improvement with all of us, while we can see me physically making changes on the screen. Then we discussed openly on any problems we had when writing essays and reviewing content, where everyone unmute their microphones and asked.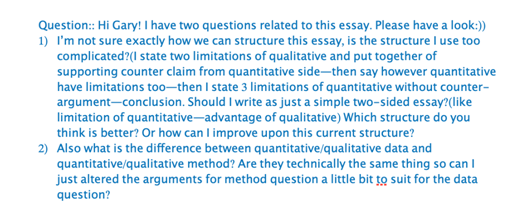 Rachel set us assignment through mainly three ways: making notes on relevant topic; review knowledge on Seneca; finish the past paper practice. We are supposed to post our notes and past papers on Moodle forum and assignment section.
We are provided several access to keep in touch with her to ask questions: she set up WeChat Group for each class separately to facilitate interaction; also, she uses Teams to have video class with us; we are also accessible to her email.
There are three ways for conducting computer science class:
Online Video lesson using Teams.

Use of Whiteboard – where all participants can contribute to the diagram.

Live Marking: Teacher discusses and displays the mark scheme by sharing the screen while students mark on their Online Class notebooks.
Ms.Molly is conducting a music class. It's really great and interesting.