Money is not only a commodity for exchange but also a crystallization of human wisdom. You probably do not know that SCIE has a money museum, which has collections over 100 countries. SCIE money museum might be the first one in a high school.
The Money Museum is located in the school library, it is an unique learning place for SCIE students. One of SCIE learning objectives is to help students to be global citizen. The establishment of the Money Museum gives students a chance to learn the globe from money perspective, students can study different countries from the angle of money. By study the evolution of money in a country, students can have a glimpse of the history, culture and economics development of the country. Money museum is really a good place for cross curriculum study, especially for subjects of social science, students who study economics, history and global perspectives could benefit the most. This provide a place for students to learn beyond the textbook, and stimulate students to do further research work.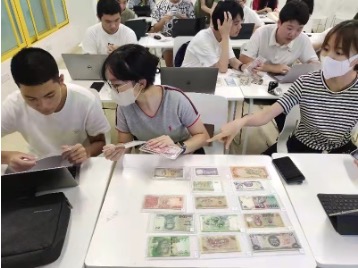 Our 'first version' of the money museum was set up at old campus in Shuiwei. Money museum was initiated by Mr. Chet Khatu, head of Commerce Department in year 2016, which was six years ago in the old campus in Shuiwei. With the support of the principle, teachers were encouraged to donate money.  As an international school, we have the advantage that our teachers are from many different countries. And teachers travel everywhere during holidays. When the school teachers learned that the Commerce Department was planning to establish a "money museum" at campus, many teachers who came back from vacation participated in this Money Museum project by donating currencies from many nations. 
After years of collecting currencies now we have money collections from over a hundred countries. Initially, these currencies were displayed in the teachers' offices for students to study. In 2020, when we moved into the new campus, Ms. Daisy Ding, head of GL economics, continued working on money museum and aimed to give students a proper place to study of money,  where money would be properly displayed and students could access it easily. Through the tireless efforts and with the support of many teachers and staff, ultimately–in November 2021–the Money Museum was exhibited in school library.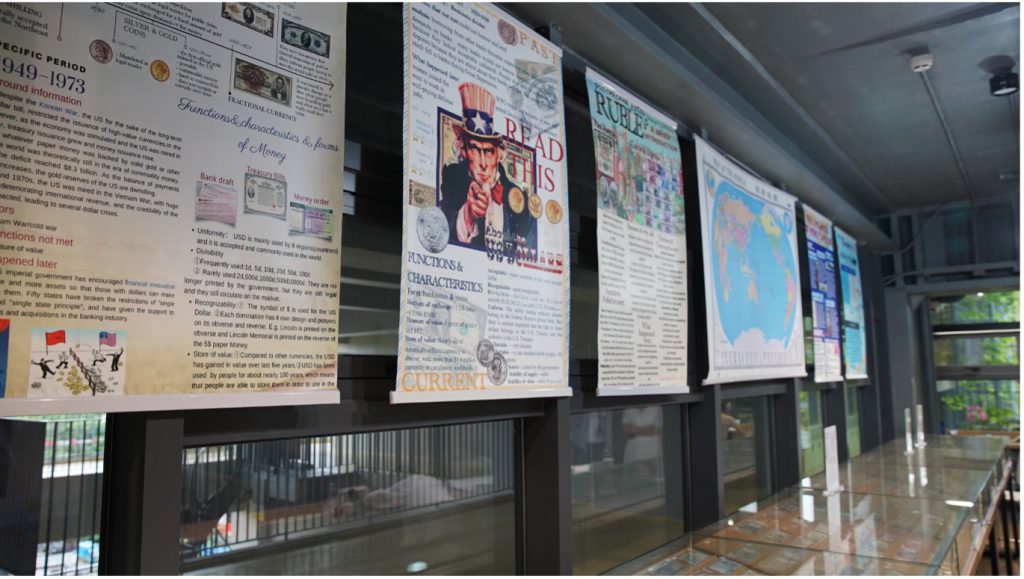 Now money museum is used for doing research project for GL Economic and Business Enrichment students. The Money Museum brings together creative and imaginative students to put into practice what they have learned in class. The Money Museum provides students with a borderless learning environment, allowing us to step outside of the textbook and get real, tangible exposure to currencies from around the world.
As a member of Economic and Business Enrichment, Florence had some insightful thoughts to share: 
Through participating in the production process of the Money Museum, I saw the currencies of many countries with different patterns, and from various periods, and I got a basic understanding of currencies and exchange rates. Our group was responsible for the initial sorting of currencies, the design of the display rack for placing currencies, and the layout and classification of the exhibition hall. We observed the structure of the library, and then integrated our design scheme to present it in the library, the process also strengthened my spatial thinking skills. To sum up, participating in the making of Money Museum has deepened my interest in economics, which is a very good experience.
Content of the museum:
The money museum is on the second floor of our SCIE library, all the 249 pieces of money are displayed in a huge glass cupboard—very convenient for the students to view. Money is categorized into four groups according to the continents to that they belong, namely the American continent, Europe, Asia, and Africa. Here's a list of the different currencies in the money museum:
American continent (39 pieces of money from 14 countries):
Mexican Peso 
Nicaraguan Cordoba 
Trinidad and Tobago Dollar 
U.S. Dollar 
Costa Rican Colon 
Bahaman Dollar 
Argentine Peso 
Chilean peso 
Brazilian New Cruzeiro G 
Bolivian Peso 
Canadian Dollar 
Barbados Dollar 
Honduran Lempira 
Cuban Peso
Africa (134 pieces from 13 countries):
West African CFA franc
Algerian Dinar
Egyptian pound
The Kwanza
South African Rand
Zambian Kwacha
Tanzania Shilling
South Sudanese pound
Ethiopian Birr
Somali Shilling
Europe: (27 pieces)
Great Britain pound
Euro
Asia: (49 pieces)
South Korean Won
Chinese Yuan
Vietnamese Dong
Indonesian Rupiah
Kyrgyzstani Som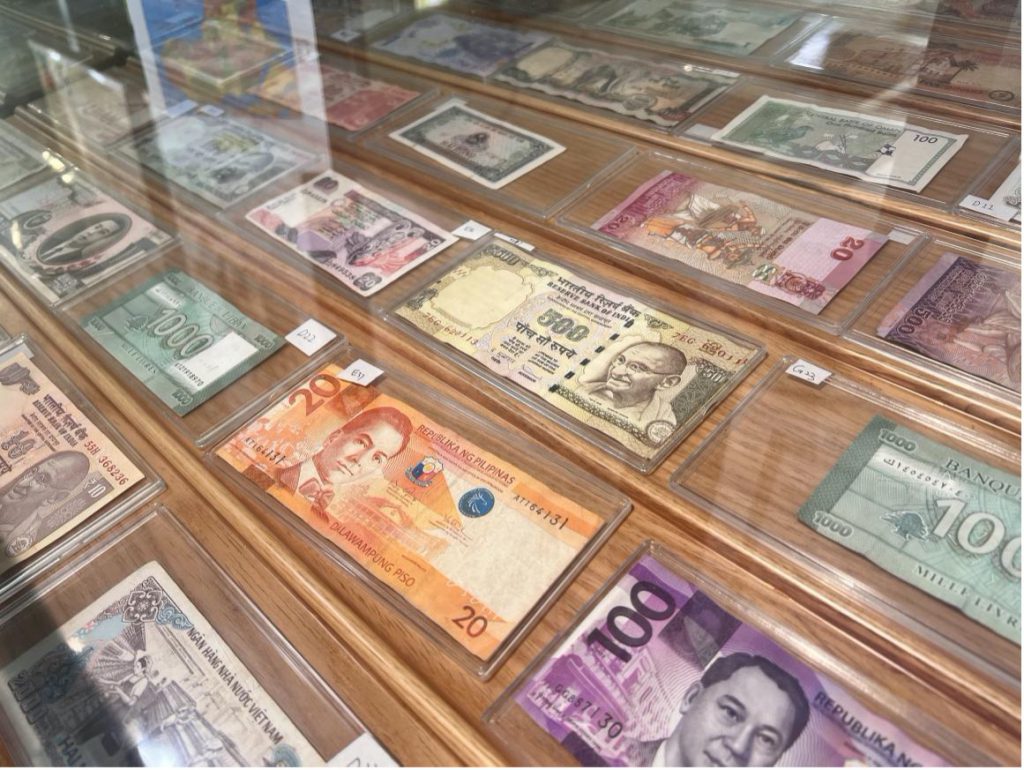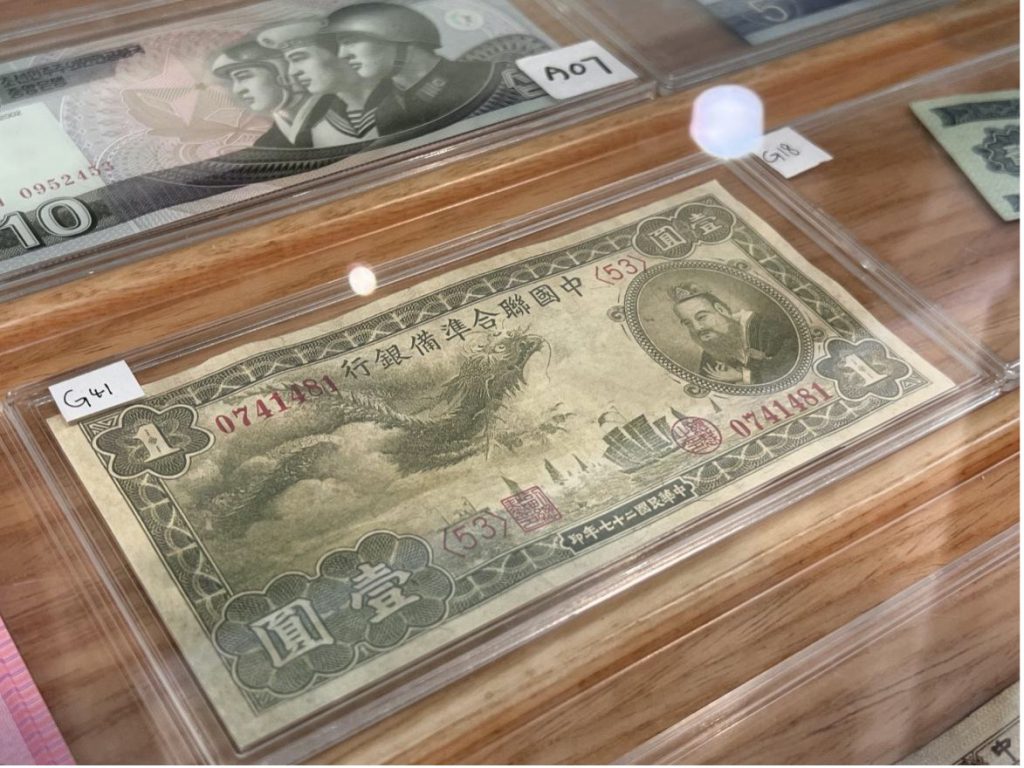 In the G1 economic class, students were assigned the project of making posters about currencies from different countries. Those posters with excellent content and visuals are printed out and displayed in the money museum for all students to learn from. Here are a few comments from the students who made the posters:
1. One thing you have learned from making the poster?
Student 1: I did a poster about the Chinese Yuan. I learned that the use of common currency is a key factor in ensuring a high level of economic activity.
Student 2: I did the poster for the French Euro. The most valuable thing I learned from making the poster was the importance to structure the content in a clear and concise way. Though we had done sufficient research and come up with lots of great ideas, we didn't arrange the content well, so the poster looked quite confusing. This was the exact reason why we got a relatively low score for our poster.
Student 3: I did a poster about the Japanese Yen, I learned how the form of money in japan developed with the change in time
2. Is making a poster an effective way for you to learn new knowledge? Why?
Student 1: Yes. Because to make a good poster, I need to go through a lot of information and pick the information after careful consideration.
Student 2: Yes. Because through this process I learned many new things about the history of money in France and the production of euros.
Student 3: Yes. It's a way to help us organize the information we collect from the Internet in a tidy and beautiful way.
Student 4: Yes—it requires large amounts of research and analysis, and we can improve the ability to condense and gather our research results. 
3. How do you benefit from the money museum?
Student 1: I can gain more knowledge about the development of money in different countries
Student 2: When I was visiting the money museum, I was amazed by all kinds of banknotes from different historical periods and from all over the world. The exhibition also gave me quite a few inspirations for my poster.
4. Any suggestions about how we can further promote the concept of money in SCIE?
Student 1: Allow students to engage in donating money to the money museum too!
Student 2: Maybe the school should hold more activities with the exchange of money involved, like the food fair last year!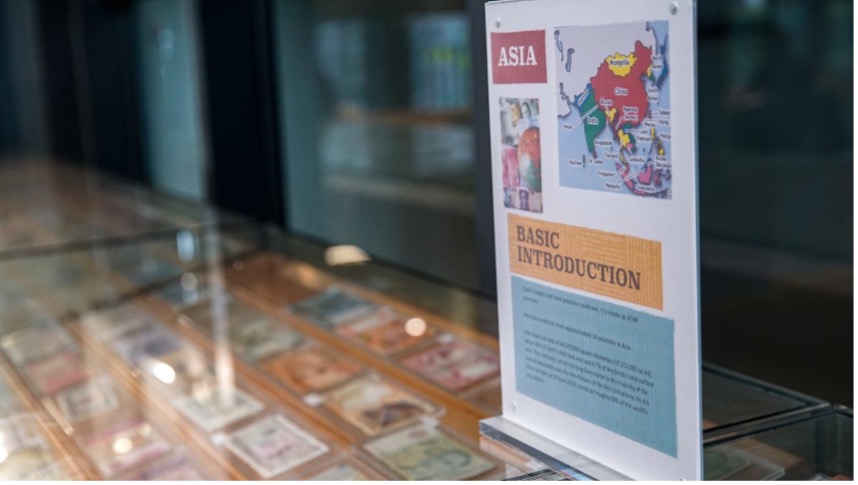 Finally, we are all looking forward to the day when the epidemic is over and when teachers and students will once again be able to collect currencies from different countries. SCIE's Money Museum provides students with an opportunity to fully explore their interests and will continue to play an important role at SCIE in the future. And this priceless spirit of exploration will continue with the participation of GL students.