As autumn arrived, the temperature in Shenzhen dropped to 20 degrees Celsius. On a cool Monday morning, all SCIE teachers and students attended the November Flag raising ceremony.
First, the National Flag was raised under the National Anthem with the help of Prefects. Then the Head Girl Rindy and Head Boy Travis of the Prefect Body went on stage and summed up the Prefects'work up to now: they introduced new students to SCIE and led orientation activities; they helped teachers organise the G-level camps, making the four-day journey exciting and memorable for everyone; they coordinated the whole Sports Day dutifully, aiding judges and supporting injured participants. It can be said that, without their presence, our school activities couldn't have run so smoothly. Travis also called for all students to share and upload pictures of their school life to enrich the new version of the school English website.
Next, the head of Metal House, Mr. Eddie, praised everyone's excellent performance and active participation on Sports Day and announced each house's overall score. Water house was currently at first place, and Wood House followed with only a few points lower. Students are encouraged to participate in more coming house activities and to continue fighting for their house honour.
The award ceremony came next.
Mr. Chet from the Commerce department announced prize-winners in the Future Business Leaders of America (FBLA) and the International Economics Olympiad (IEO). FBLA is the most influential business competition in the United States, with a total of 250,000 participants from nearly 3,000 different high schools every year. SCIE students Li Mingyuan, Liu Ruoyu, and Pan Yanbing directly entered the qualifying tournament by ranking Top 15 globally. Finally, they won sixth place in the competition and became the first SCIE students to be ranked Top 10 in US economics and business-related competitions. Moreover, Liu Ruoyu and Pan Yanbing received Silver awards in the International Economics Olympiad. Well done!
The head of Chemistry department, Mr. Richard Knights, distributed certificates for 3 G-level students and 5 A-level students who achieved Top 10 % in the world in the Waterloo Chemistry Competition.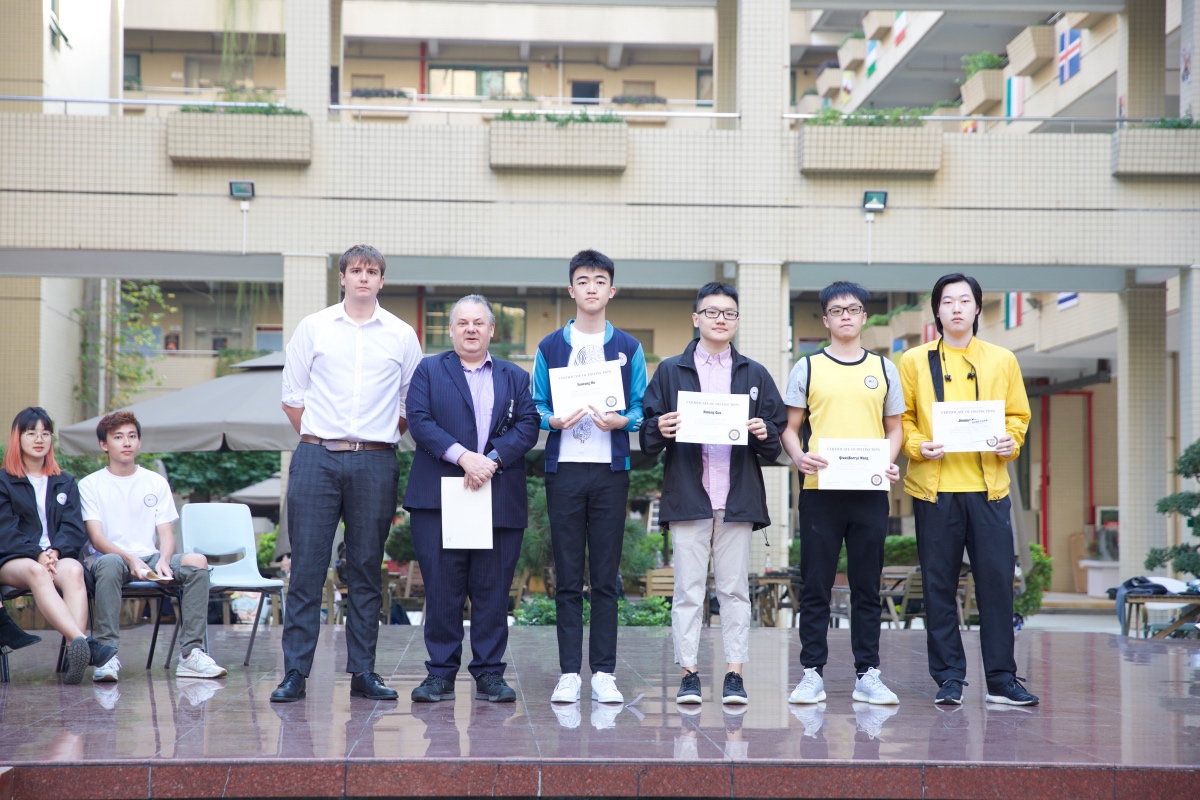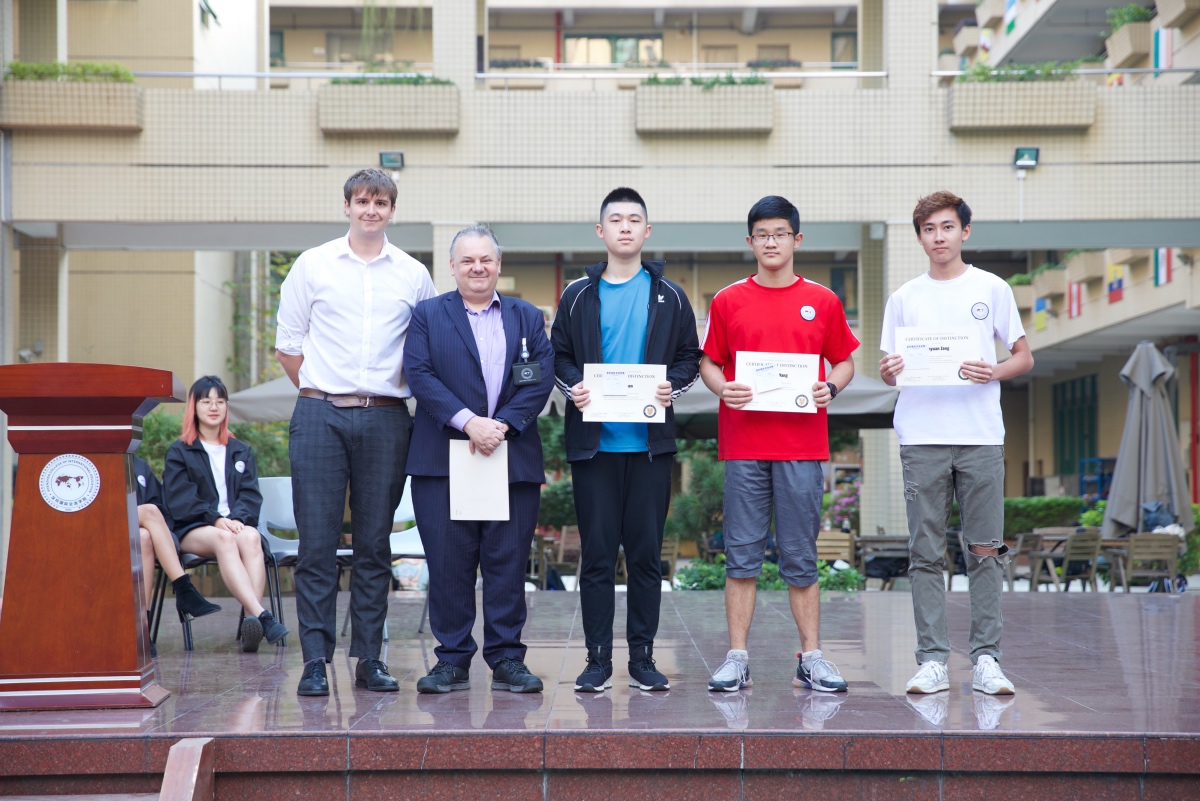 Ms. Diane from Computer Science department gave out awards for top-ranking candidates in the American Computer Science League. SCIE Student Li Bingdong won the Top in China Award in Senior group, Zhao Ziang won the Top in China Award in Middle group, and SCIE was named as Top school organiser of the American Programming Challenge.
Our drama teacher Mr. Gadi shared great results from the Trinity College London examinations in Drama & Speech, in which many SCIE drama students were awarded Distinctions from Grade 6 to 8. Gadi and Principal Neil handed out certificates to them.
Recently, the Biology department provided opportunities for students to enroll in three different biology competitions held by the Royal Society of Biology. Biology teacher, Mr. Back, announced the list of award-winning students. In the British Biology Olympiad, 4 A-level students received Gold award, 4 received Silver and 2 received Bronze. In the Intermediate Biology Olympiad which G2 and A1 students took part in, 7 students received Gold award, 3 received Silver, and 3 received Bronze. In the Biology Challenge which G-level students took part in, 5 students received Gold award, 4 received Silver and 4 received Bronze.
In the Education Perfect Language Competition, many SCIE students achieved excellent results in Spanish and Japanese competitions, and their certificates were awarded to them by Ms. Maria and Ms. Lisa Quan from the Language Department.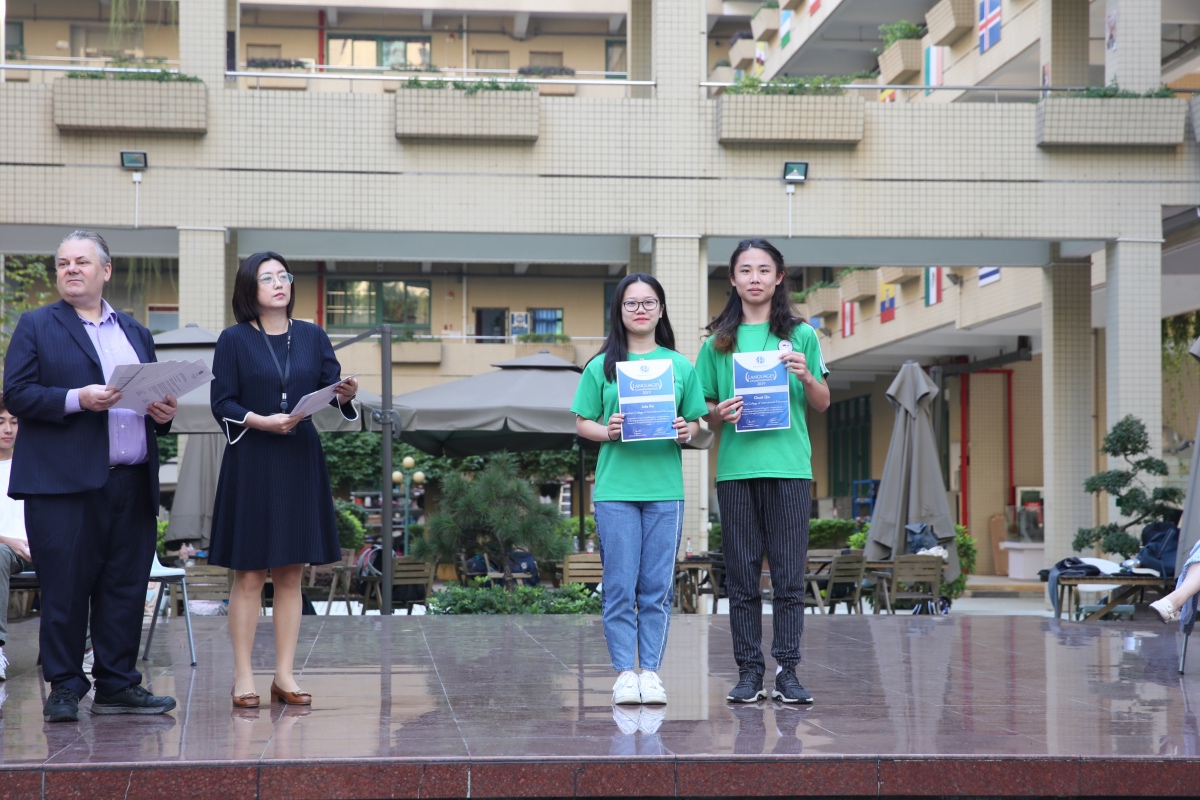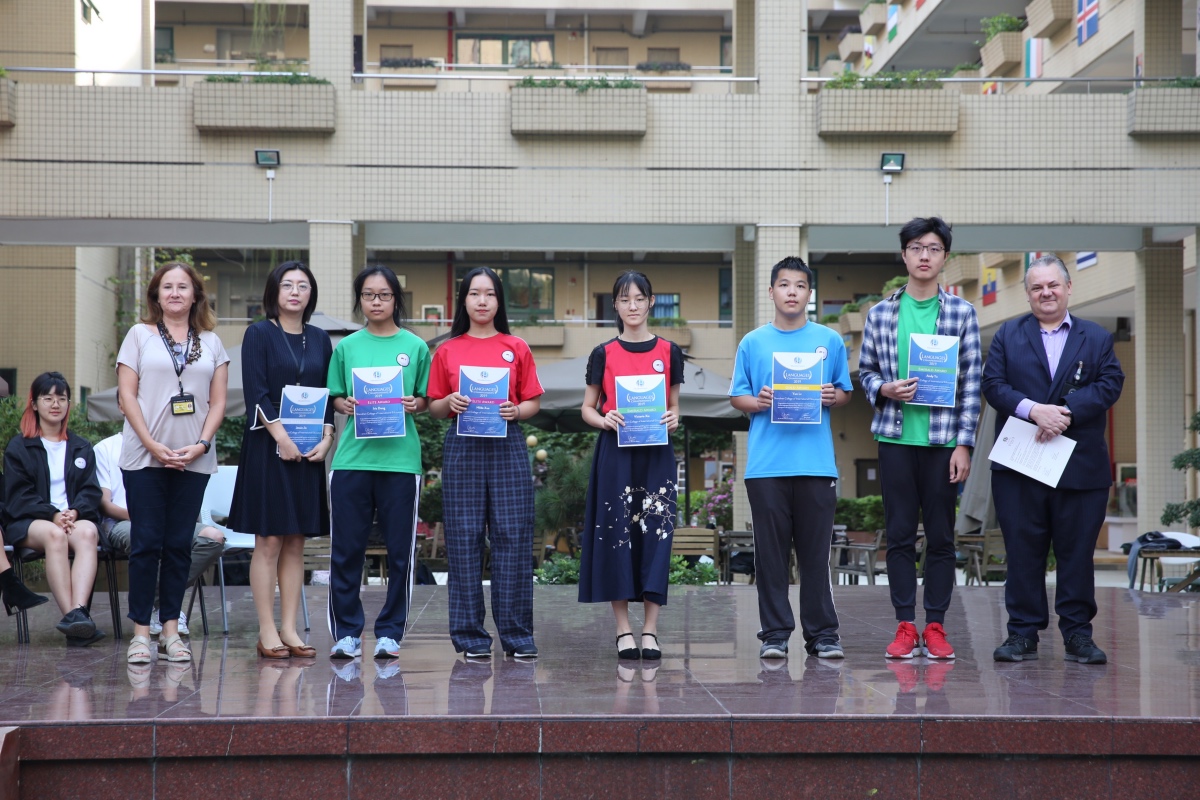 In the SCIE House Logo Design Competition, Iris Dong won the Best Design by her unique ideas. Deputy Principal Ms. Lisa Haitana awarded her with a beautifully crafted House badge to appraise her contribution to the school and encouraged more students to participate in the upcoming House Uniform Design Competition. Lisa expressed her excitement in seeing our future house symbols and outfits refreshed and redesigned with the inspiring ideas of our own students.
Following that, Principal Mr. Neil Mobsby welcomed the two new teachers joining us at SCIE and wished them all the best for their following school life. Afterwards, the head of the PE department, Mr. Luke Walker, praised everyone's active contribution on Sports Day, no matter participating in a race or cheering for your house spirits from the side. Many students broke previous records and were invited on stage to be acknowledged of their superior performance. In the end, the President of the Student Union, Elizabeth, addressed the importance of following certain procedures and rules when organising in-school activities. She hopes that by following the instructions, students can organise the activities more effectively, enriching our school life.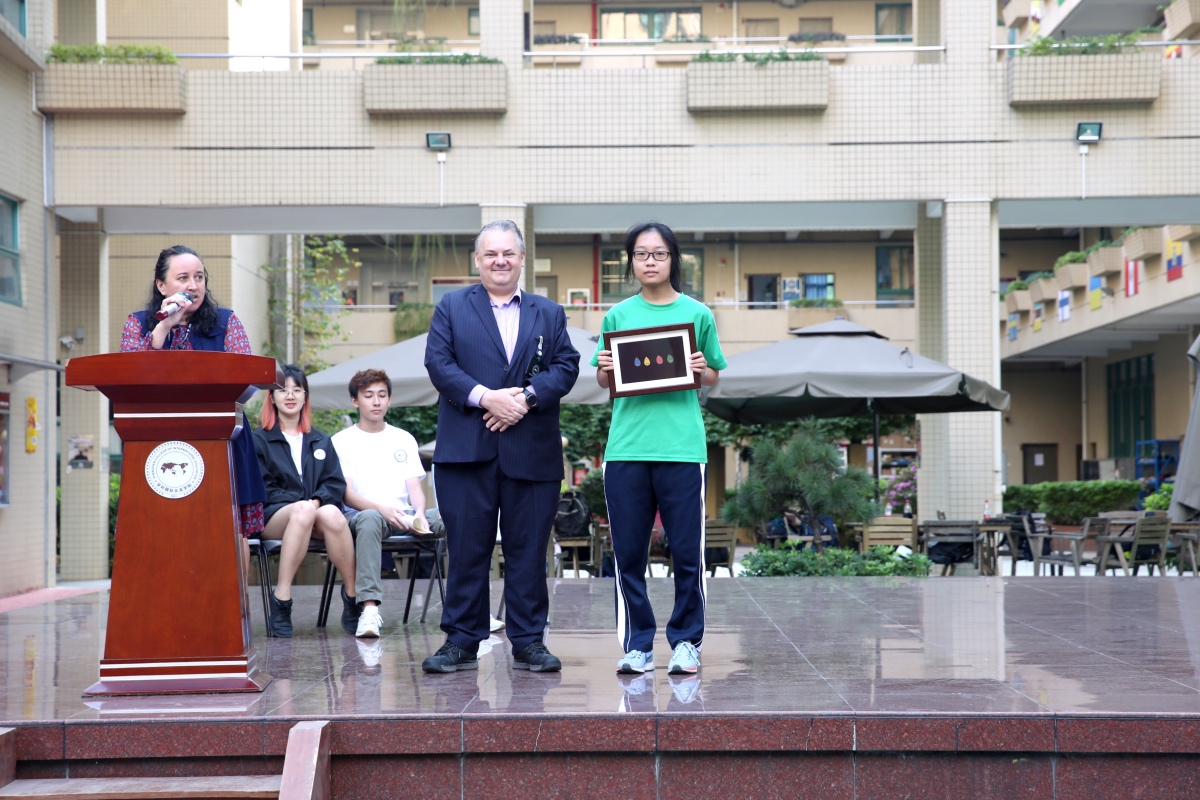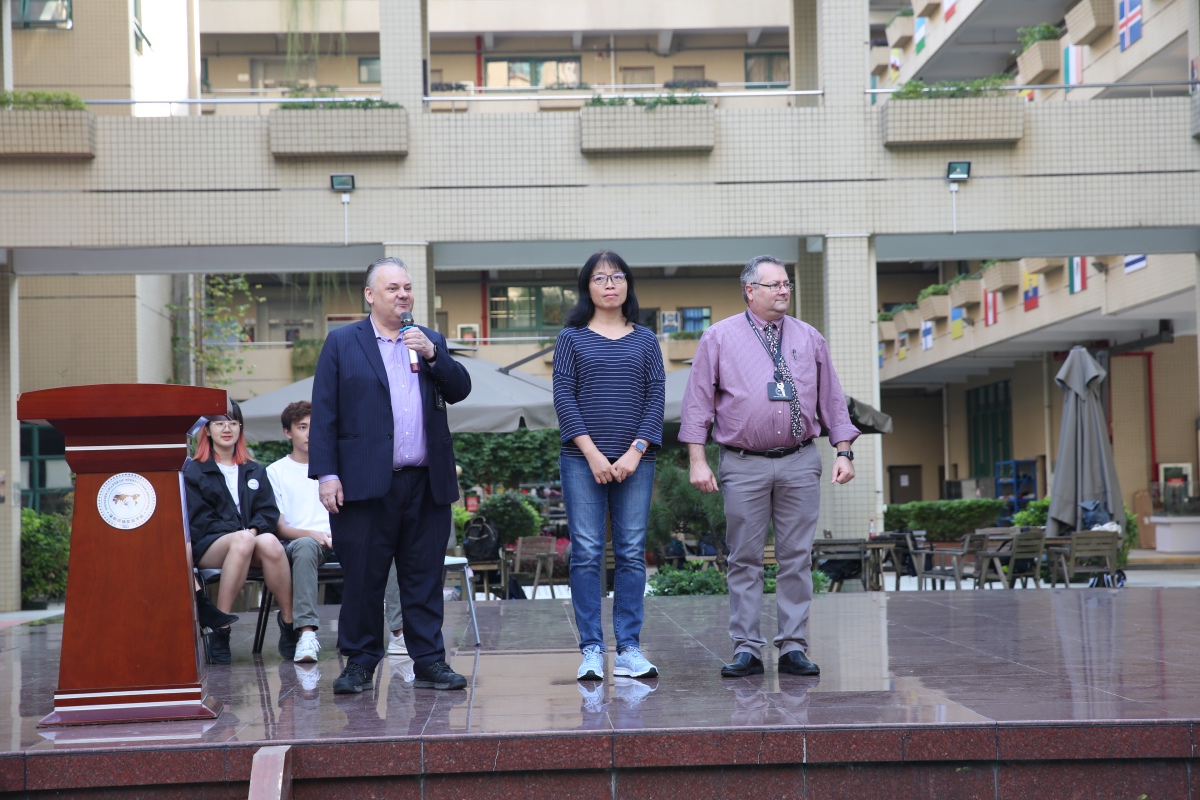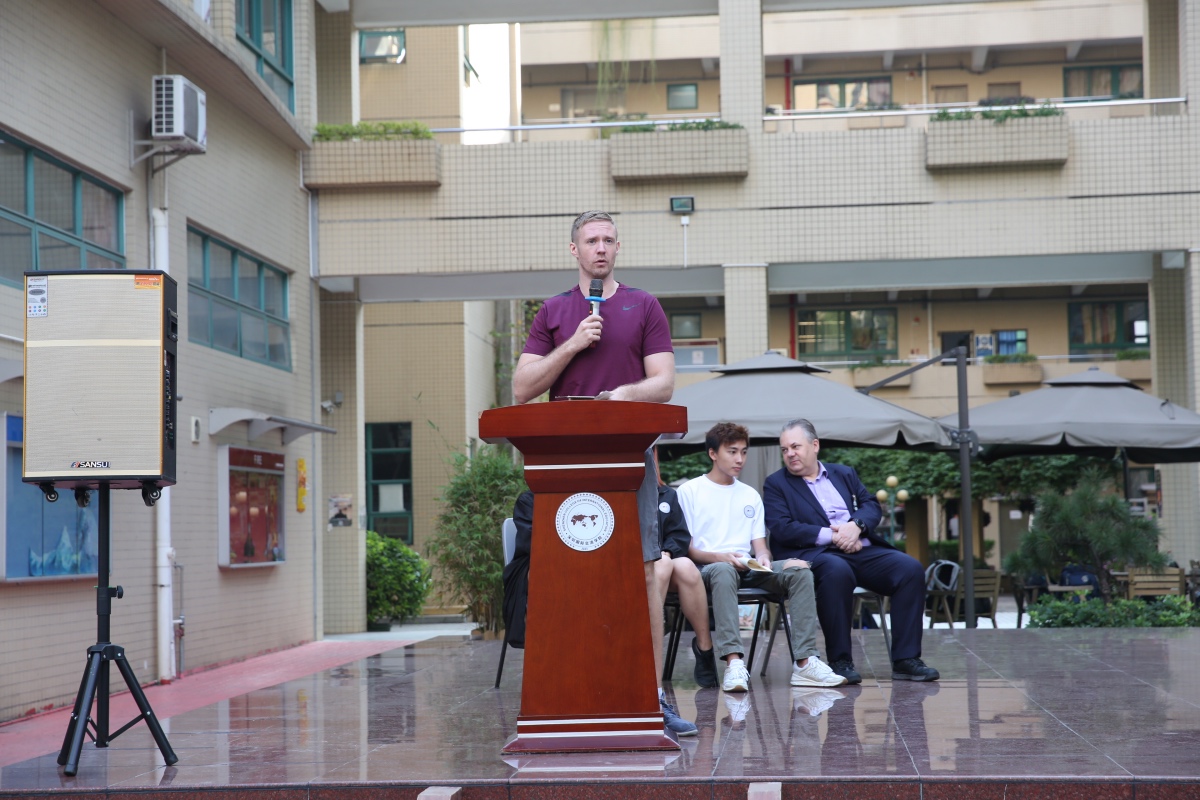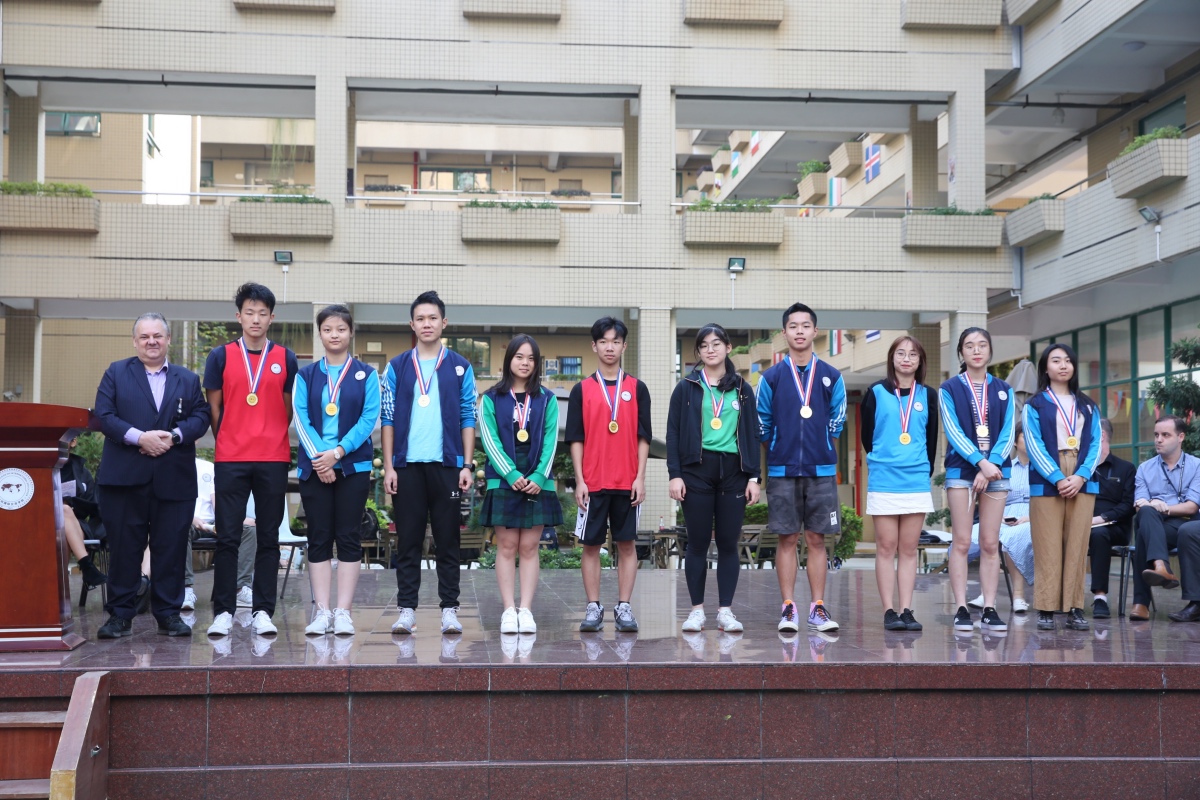 Written by Crystal Cai/ Translated by Celina 4101& Wendy 4158